Good Numbers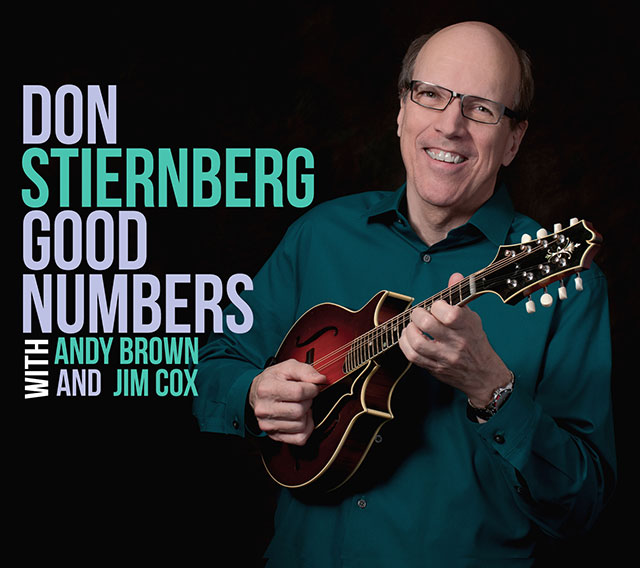 Don Stiernberg
mandolin, electric mandolin, and vocal
Andy Brown
Guitar
Jim Cox
Bass
Tracks:
There Will Never Be Another You
Haven't We Met
Just Friends
Something Special
Just One of Those Things
I Thought About You
Laverne Walk
Invitation
Come Rain or Come Shine
The Mayor of Swingville
Ten original instrumentals plus two vocal standards, all done acoustically by Don and four cats he loves playing with. Swing, Latin, and contemporary as recorded by Steve Rashid for Don's own label, MandoTraveler.
"Stiernberg and friends convey joy in virtually every track."
-Howard Reich, Chicago Tribune
Don Stiernberg
mandolin and vocal
Andy Brown
Guitar
Jim Cox
Bass
Phil Gratteau
Drums
Larry Harris
Piano
Tracks:
Life Itself
Questions and Answers
Mandoboppin'
Bix in Rio
Donniebrook
The Very Thought of You
Three Down Town
The Wacky Waltz
Between the Devil and the Deep Blue Sea
Blues Santa Cruz
Magnanimous
Short Sleeves in December
Low Country Jazz DVD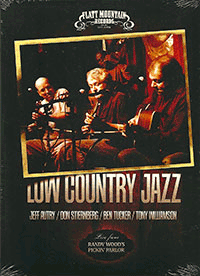 Available from:
www.randywoodguitars.com
or
www.elderly.com
Captured live in 2007 at Randy Wood's Pickin' Parlor, "Low Country Jazz" features inspired renditions of classic and original jazz tunes performed by a magical grouping of true instrumental virtuosos.
Don Stiernberg
mandolin and vocal
Jeff Autry
guitar and vocal,
Tony Williamson
mandolin and vocal
Ben Tucker
bass
Tracks:
Lady Be Good
Wild Julio
Avalon
Pher Matique
Well You Needn't
Blue Heels
Limehouse Blues
Blues Santa Cruz
Spanish Eyes
Mr. Ambassador
Bloomingdale
Midnight on the Water
Now's the Time
Short Sleeves in December
Swing 220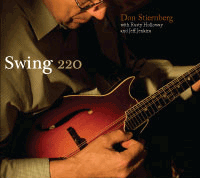 © 2010
Blue Night Records
"Strings, picks, and fingers have never sounded so good…"
Ted Eschliman, jazzmando.com
A collection of swing jam favorites with Jeff Jenkins on guitar and Rusty Holloway on bass.
Don Stiernberg
mandolin/guitar
Jeff Jenkins
guitar
Rusty Holloway
bass
Tracks:
Topsy
On the Sunny Side of the Street
How High the Moon
Night and Day
Do Nothing Till You Hear From Me
Caravan
Lady Be Good
All of Me
Limehouse Blues
Pennies From Heaven
Honeysuckle Rose
Stardust
Back Home Again in Indiana
After You've Gone
Mandolin Restaurant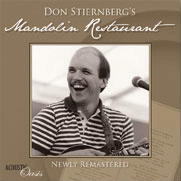 Features guest appearances by
Jethro Burns
,
Sam Bush
,
David Grisman
,
Howard Levy
,
Judy Roberts
, and a host of Chicago's finest musicians.
"Now digitally remastered for the first time, Mandolin Restaurant resonates with creative energy and ingenious playing, all wrapped in lush arrangements and a solid ensemble sound by one of the mandolin's greatest living protagonists."
Available for download from Acoustic Oasis Here
Tracks:
We Belong Together
Windshield
Django
Blues For Ed and Myra
Cape Verdean Blues
The Masquerade is Over
Opus 7
Ayash
Home Cookin'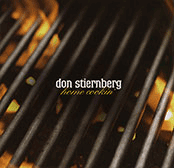 © 2007
Blue Night Records
Don Stiernberg
vocals/mandolin/guitar
Curt Morrison
guitar
Brian Wilkie
guitar
John Moulder
guitar
Jim Cox
bass
Paulinho Garcia
rhythm guitar
Geraldo Deoliveira
percussion
Jeff Thomas
percussion
Tracks:
Brain Cloudy Blues
Home
Stella By Starlight
Something In The Way She Moves
Creepin'
West Coast Blues
I Don't Want Love
High Clouds
You Stepped Out Of A Dream
I Hadn't Anyone 'Til You
Jethro's Tune
Let's Get Lost
By George
© 2005
Blue Night Records
Don Stiernberg
mandolin/mandola
John Carlini
guitar
Jim Cox
bass
Phil Gratteau
drums
"….John Carlini and Don Stiernberg have reinvigorated venerable jazz standards by pursuing a strategy that taps unlikely precedents from the past while aiming toward the future." David McCarty, ACOUSTIC GUITAR magazine, March 2005
Tracks:
Nice Work If You Can Get It
Liza (All The Clouds Roll Away)
How Long Has This Been Going On
Somebody Loves Me
Fascinatin' Rhythm
I've Got A Crush On You
Someone To Watch Over Me
The Man I Love
Rhapsody In Blue
Summertime
Embraceable You
Soon
Srike Up The Band
I Got Rhythm
Tone Poets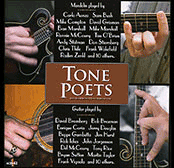 Don is proud to be included on this two CD set produced by David Grisman featuring 42 musicians playing either a 1922 Gibson Lloyd Loar F5 mandolin or a 1933 Martin OM45 guitar. The resulting study in how artists bring forth sound from acoustic instruments is a revelation. Don and John Carlini contribute one track, "Moonlight in Vermont".
Angel Eyes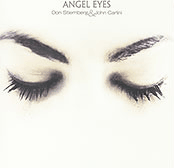 © 2004
Blue Night Records
"It's not too much of a stretch of the imagination to see Thelonious Monk nodding in approval at Stiernberg's quaver interpreting the composer's signature intervals on " 'Round Midnight."
Aaron Cohen, from his ***1/2 review in DOWNBEAT magazine, March 2005
Don Stiernberg
mandolin
John Carlini
guitar
Jim Cox
bass
Phil Gratteau
drums
Tracks:
The Way You Look Tonight
All The Things You Are
My One And Only Love
Body and Soul
How About You
Tenderly
Round Midnight
They Can't Take That Away From Me
Angel Eyes
In a Sentimental Mood
Secret Love
Unseasonably Cool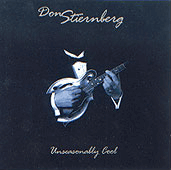 © 2001
Blue Night Records
Don Stiernberg
mandolin, rhythm guitar
Curt Morrison
guitar
Jim Cox
bass
Kevin Connelley
drums
With Special Guests:
Art Davis
flugelhorn, trumpet
Ron DeWar
tenor saxophone
Richie Fudoli
tenor saxophone
Russ Phillips
trombone
Alejo Poveda
percussion
Geraldo deOliveira
percussion
Greg "Spats" Studebaker
cornet
Tracks:
Where or When
More Than You Know
Estaté
Will You Still Be Mine?
Easy Living
Lover Come Back To Me
I Cover The Waterfront
Baby Won't You Please Come Home?
Ghost of a Chance
Happy Reunion
New Orleans
Theme From Mannix
The Game's Afoot!—The John Carlini Quartet
With Special Guest Pat Cloud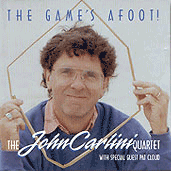 FGM Records
PO Box 2160
Pulaski, VA 24301
John Carlini – Acoustic Guitar
Steve Holloway – Drums / Percussion
Don Stiernberg – Mandolin
Brian Glassman – Acoustic Bass
Special Guest: Pat Cloud – 5-String Banjo
About Time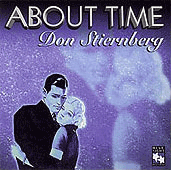 "Another milestone for jazz mandolin."
– David "Dawg" Grisman
A collection of swinging jazz standards featuring Don's mandolin, rhythm guitar, and singing.
Featuring:
Curt Morrison – guitar
Jim Cox – bass
With Special Guests:
Kevin Connelley – drums
Art Davis – flugelhorn, trumpet
Richie Fudoli – tenor saxophone
Russ Phillips – trombone
Alejo Poveda – percussion
Steve Schneck – flugelhorn
Released by Blue Night Records
The Swing Sessions
John Parrott & Don Stiernberg
"The Swing Sessions simply puts the all the right ingredients of swing music front and center without any fluff or self-consciousness."
Features John on guitar, Don on mandolin, Jim Cox on bass, Chuck Hedges on clarinet, and Greg "Spats" Studebaker on cornet.
Selected Sideman Sessions
Paulinho Garcia, "My Very Life"
http://www.chicagosessions.com/garcia.html
http://www.paulinhogarcia.com/page4.html
Beautiful instrumental and vocal original Brasilian jazz from the Chicago-based international jazz star.
The Henhouse Prowlers: "A Dark Rumor"
http://itunes.apple.com/album/a-dark-rumor/id343345267?v0=9989&ign-mpt=uo=1
Original traditional style bluegrass from one of the busiest bands in America. Produced by Don Stiernberg, who also plays mandolin on most tracks.
The Road Home, a Tribute to Butch Baldassari
A loving tribute to the great mandolinist, with 20 tracks contributed by Butch's colleagues including David Grisman, Ricky Skaggs, Sam Bush, Roland White, Tom Rozum, Tony McManus, Steve Kaufman, John Reischman, Roland White, Carlo Aonzo,Ron Block,Chris Jones,Keith Little, Robin Bullock,Jim Richter, Scott Tichenor, Mike Compton, The Nashville Mandolin Ensemble, Tim O'Brien, and Don Stiernberg.
http://www.soundartrecordings.com/TheRoadHome.shtml
The Johnsburg 3: "Caskets in the Cornfield"
A great collection of stories in song, focusing on tragedies, all from the state of Illinois!Assembled by the great folklorist and historian Bucky Halker, the Johnsburg 3 also includes Tom Piekarski on bass and vocals and Don Stiernberg on mandolin, fiddle, guitar, and vocals. Fans of folk, old-time, country, and bluegrass will enjoy this project.
http://www.cdbaby.com/search/Q2Fza2VOcyBpbiBOaGuY29ybmZpZWxk/O
Robbie Fulks: "Happy: Robbie Fulks Plays the Music of Michael Jackson"
The mad genius of alternative country re-imagines his favorite MJ trax. Not to be missed is the marathon bluegrass remake of "Don't stop Till You get Enough.."
http://www.RobbieFulks.com/music/albums/42-Happy-Robbie-Fulks-Plays-the-Music-of-Michael-Jackson
Steve Lewandowski: "Familiar Melodies"
Accessible original jazz tunes by the great Milwaukee guitarist. Also includes the legendary Chuck Hedges on clarinet and hard swingers Bob Maynard(vibes), John Parrott(rhythm guitar)and George Welland(bass) from Steve's working band.
Recording Studio: